5 Question Friday brought to you by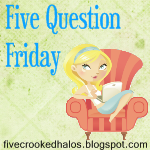 1. What is better, growing old with out money or dying young and wealthy?
Well if I get to stay with T and the 4 C's, I would rather grow old w/o money...But if I know T and the 4 C's can be better off without me and have the money, than I go early and let them absorb the wealth
2. Who takes out the garbage at your house?
That would be me, but if I forget and T has to do it....Oh shit look out I amin trouble
3. Have you ever had the same dream many times?
Yeah kinda like groundhog day, I keep having this dream (nightmare) that I wake up and go to the same job everyday.
4. Can you play a musical instrument?
Not really. Do armpit fart noises count? What about human beat box, like old school rap? Drums on my knees? Still the answer is no
5. If you owned your own store, what would you sell?
I would sell anything and everything that would make it easier to be a dad. Name of the store "Dads R' Us"