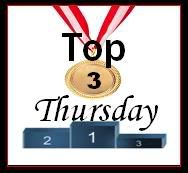 What are the Top 3 reasons why you blog?
If you want to do this too you can go over to
Confessions From a Working Mom
and link up. She blogs about some funny shit and likes to call us men "Drama Queens" Yeah real funny....haha.
So here is my Top 3 Thursday
3.
Blogging for me is a stress relief. I used to sit up at night with a million thoughts running through my head and now I don't. I blog about daily feelings and happenings and it has opened me up to be more relaxed.
2.
It adds another thing that T and I can do together. She helps me so much with my blog and it is something that we can discuss and have laughs over. I am always at work and I love my sports, so blogging just brings T and I closer that much more.
1.
Aside from all the stupid shit I write and joke about I want my blog to be something that years down the road T and the kids and I can look back at her blog and my blog and get carried away in the memories that we made. I want my C's to be able to read my blog and see how much I loved them and how I was always willing to share our fun stories with everyone else. I want the kids to read about things they did when they were little and laugh at themselves and me and T.