So I found this blog Confessionsfromaworkingmom. This woman has a husband who is a cop, he played college football so being the sports junkie that I am, I have to go read it daily, with the hope that she might talk about her husband. You people don't think I read your blogs to find out about you ladies and your kids do you? Psssst, don't tell anyone but yeah I kind of like reading all these blogs. But can you all talk about your husbands a little more? Hey heres and idea, maybe get them to blog. I started blogging and now I only bug T about sex 6 days a week instead of 7. Anyways back to the point.....This lady Elizabeth does this thing on Thurdsays called TOP 3 THURSDAY, so I thought I would do it to.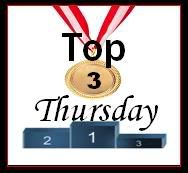 What are your Top 3 favorite TV shows?
#3.
Reality Shows -
(The Bachelor & Survivor right now) I know that is a pretty wide range, but T and I like to watch mindless reality tv and it gives us a chance to get on each others nerves with our own comments we make to each other.
#2. Sports -
Sportcenter, Espn, Olympics, Basketball, Football, Nascar....hell any sport I will watch it. The Olympics are hot right now. Shaun White, Lindsey Vonn the 2 hottest name in Winter Sports. One request....can you get rid of Curling? Curling
#1. 24 -
I have watched every season and Jack is the shit. A bad ass. Ladies man, father, grandfather, and just one tough man. Who else can save the Country in a day. Did you see Monday night when he took out the whole Russian Mob in the matter of minutes after being jump started like an old car.
Join in and have fun and go to Elizabeths site to link up.