FRIDAYS FINAL THOUGHTS
Hell yeah another Friday is here and I have a nice 3 day weekend ahead of me, what could be better? Well a 4, 5, 6 day weekend but I am not complaining.........yet.
It is a rainy, stormy start to the Friday here in Atlanta, so as I go out to get all of the nightly files from our repo trucks....what do I get? Wet! That's right. Oh well, I will sit here all day with wet shoes and by the end of the day I will be funky smelling. Yeah
Ok, so every Friday I do this and get shit off my chest (just an expression, that would be nasty) and unclog my seldom used brain to make room for more useless shit to be filed in there.
I always get a little emotional this time of year, this weekend to be exact. I have told this story before so I will keep it short. 11 years ago 5 of us left Houston, Tx. and went on a trip to Panama City Beach, Fl. It was there that I did a number of illegal things, drank WAY too much, almost got arrested by complaining about our run down hotel with no air (seriously), but the best thing in the world happened on that weekend.
I met my Ga. Peach.
It's been 11 years since we met honey and I love you and you are the best.
I have to admit it. At the end of a long day and when the kids are finally in bed, I love to lay in bed and watch some tv and relax. I am not a reader, I think it is the adult a.d.d in me that no book can keep my attention for too long. T and I have shows we watch and laugh at and have fun together watching. I have seen this show
DAD CAMP on VH1
but never tuned in before and we finally caught an episode the other night and we were laughing our ass' off at this
Ok and then last night we were watching this new Boston Med show, a reality documentary about nurses, surgeons and so on, but the thing I noticed was a nurse they highlighted was HOT. I have never been to the ER and had a HOT nurse. Then one of the resident doc's was HOT. I have never had a HOT doc. I asked T home come there are no HOT doc's around when we go to the ER. She did remind me that I did in fact have a HOT doc when I had my emergency Appendectomy and Hernia a few years ago.
HONEY IT WAS A GUY!! (To his credit though, he was a GQ kinda doc.)
Have you as a parent ever laid in bed (in the dark) and then all of a sudden been scared out of your mind by your child? I am all the time. Ecspecially by my oldest C1, he likes to kind of sleep walk or 1/2 sleep walk and come into our room and talk to us in the middle of the night and sometimes he just stands there and wont say anything.
So Wednesday night T and I are talking and joking about my new 10 year contract and how I will be 48 years old and C1 will be almost 17 and how I will be a dirty old man and we are joking and talking about him and then I look over....
And scream and jump out of my skin. He is standing there over me looking at me and talking to me and starts walking all around the room. I was freaked out and T and I couldn't stop laughing because he was there and we were talking about him. Oh my god it was just too funny.
Why is it that certain singers can suck ass in a genre and then change and have some really good songs and become enjoyable to listen to?
Take Uncle Cracker. He was basically Kid Rocks sidekick and Dj for a while and then became a no one and now he is a country style, soft rock artist and he has a few good songs.
In Ga. they just passed the new driving and texting law, banning people from driving and texting. Lets see how many jackoff's still drive and text and cause problems for us on the roads.
I am so ready for a nice long weekend with the kids and T. I dont what we have going on except the pool and some fireworks, but I know we are going to clean and get some school stuff organized.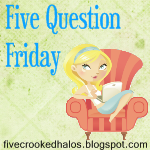 Another Five Question Friday
I am going to participate in.
1. What is one thing you miss the most about childhood?
TOYS. I really miss toys. I think that is why I love to play video games and play with the kids and their things. Lego's , Star Wars figures, G.I Joe figures, all of that stuff was so much fun. Collecting cards and trading them with friends.
2. Are you still friends with your friends from high school?
No, not at all. I went to high school in a different state and moved a bunch after that. I liked high school but never have kept up with anyone more than a few years after I graduated in 1990. A LONG time ago.
3. Is there a catch phrase, cliche, or word that just drives you bonkers every time you hear it?
Well here at work, I hate hearing the phrase "10-4" from drivers on the Nextels. That shit is so redneckish and it drives me nuts.
4. What is one thing that you think symbolizes America...besides "Old Glory
"?
Well being that I love certain things about the USA, I would have to say that since I lived in Va. for a long time and DC was always there, I love the history of DC and Virginia. I also love the Alamo in Tx. I love the classic solid colors of RED, WHITE and BLUE. I mean I could list a million things probably but these come to mind.
5. What are your 4th of July weekend plans?
Hang at the house. Clean. Yardwork, garden, fix the f-ing fence finally so the dog stop getting out. Maybe, take the kids to see Toy Story 3. Go to T's familys house and go swimming with the kids on the 4th and then watch Uncle Nolen shoot of illegal fireworks from Alabama. We got C2's K12 school stuff in so we are going to get all of that straight.
Well everyone have a great weekend and have fun and stay out of trouble.